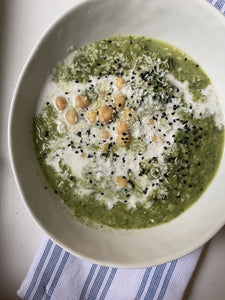 Nutrition that adapts to each stage of pregnancy
from fertility to postpartum – and beyond
Meal Programs
Menus designed by nutritionists, crafted by chefs, and adapted to your current needs
We design a delicious variety of meals, including breakfast, lunch, dinner and snacks. Our nutritionist & chefs consider quality and seasonality before crafting your meals from scratch each week.
YES, PLEASE!
Considering you + baby at every stage
Our food philosophy
Chiyo brings together the best elements of Eastern food therapy and Western nutritional standards, and delivers them to your door as delightful, fully prepared dishes and snacks. 
Inspired by Traditional Chinese Medicine and Ayurvedic practices, we are more than a meal service; we are uniquely focused on the role of food in your whole health and wellbeing during one of the most important (and exciting!)  times of your life.
Through heritage and training, we've learned the ancient traditions that people have relied on for centuries to nourish themselves and their families:
Warm & Nourishing
This promotes digestion and circulation, believed to raise your body's energy (aka "qi" in TCM or ojasi in Ayurveda).
Food with Purpose
Every ingredient serves a purpose. No empty calories here.
Eastern Elements
We're always researching the latest therapeutic, evidence-backed ingredients and preparation methods.
By the season
We rotate our menus seasonally to maximize available nutrients and support our environment. It's better for all of us!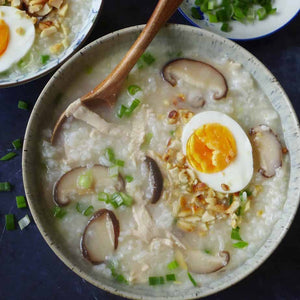 Consistently delicious and nutrient-dense
Meals should be moments of enjoyment throughout your pregnancy, not stressful compromises between what you're craving and what your body needs. Our focus is not only on the foundation of vitamins & minerals for a healthy parent & baby, but also nutritional consistency & flavor.

All calories are not created equal (nutrient-density). We manage your full day of meals to provide 2000-2300 calories (varies based on your stage of pregnancy and postpartum) across breakfast, lunch, dinner, and a snack. 
Breakfast: Average 300-500 calories
Lunches & Dinners: Average of 500-600 calories
Snack: Average of 100-200 calories
Broth & Tea: Average of 200-400 calories
High standards for our food. Low-key education for you.
We source organic and local ingredients, whenever possible. Seasonality and freshness are always taken into account to guarantee flavor and freshness. 
We do our best to accommodate any and all dietary preferences or restrictions. Once you confirm your plan, our team will reach out to gather more details of your lifestyle & preferences, allowing us to adapt week to week.
We'll also walk you through the nutrition behind your weekly meals via email. It'll be interesting and bite-sized, promise!